Ramji and Khuda must have met yesterday after december 6, 1992(Babri masjid demolition day) to discuss Ayodhya attack!:)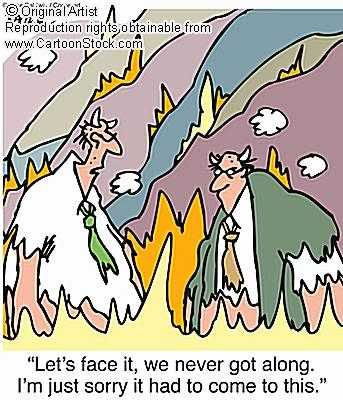 Above cartoon might give you an idea on the minutes of meeting.:)
Yesterday, 5 militants attacked on Ram Janambhoomi complex in Ayodhya, the place where Babri Masjid used to be before december 6 1992. December 6 1992, the day of demolition of Babri Masjid, is one of the black day in indian history when so many people from both the religions, Hinduism and Islam, got killed mercilessly by each other. Who was responsible for so many killings on december 6, 1992, no body knows. However, everybody has their own opinion.
But, Ramji would never have approved the construction of temple after knowing about the demolition of babri masjid and killing of thousands of innocent lives.
Yesterday, in afternoon, again 5 militants allegedly belonging to LeT(Islamic group) attacked the complex and tried to give rise to communal tension leading to unneccessary and shameful killings. But, probably, God acted on time and saved the humanity.
But then, god creation is not smart enough to understand the hints. BJP-VHP activists started disrupting day-to-day life by creating tensions on airports, railway stations, roads etc. Even, God won't save such fools? What point are they wanting to prove is just incomprehensible? Could you guess that?:) I can't!

Flight to America: Are you one of them wanting to go abroad for doing higher studies in engineering? Then, cracking GRE is the answer. Cracking GRE mainly implies great vocabulary. And, flashcards come very handy when mastering English words.Check out the Online flashcards